Features Of The Most Popular Bridal Styles
Choosing the perfect bridal look for your big day is a daunting task. The pressure of making the right selection can cause some brides to feel overwhelmed. To make it easier, let's break down some of the most popular wedding style options available today and review their common features with detailed descriptions so you can find one that fits your unique sense of beauty.
Urban
A style popular among today's youth is bold and exciting. This style includes bright colors and patterns and is often minimalistic. A perfect location for this type of event would be a banquet hall decorated in a modern or loft style. The most important thing is that the interior should have regular geometric shapes and be relatively simple, with bright light and luxurious decorations to contrast it. The bride and groom's pictures should be bright. It means that they are fashionable. The person getting married might wear a mini-dress or elegant trouser suit.
Eco
When people have a wedding in this style, the husband and wife join together. Open areas located in pretty places like the forest or next to a river are perfect for having the wedding. A lot of greenery, simplicity, and using things made from nature is good. The colors of the wedding are muted tones of green, blue, and brown. The husband and wife should wear clothes made from natural fabrics.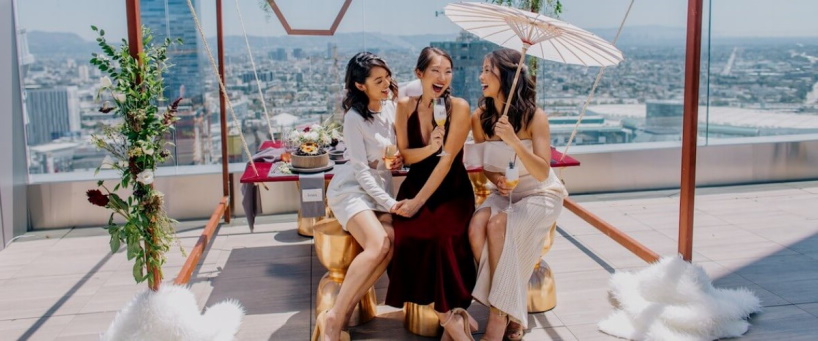 Japanese style wedding
This event is good for people who like oriental culture and prefer luxurious clothes, national food, melodic music, and rituals. The best place for the event will be a stylized area, tent, sushi bar, or Japanese restaurant. The newlyweds will wear national costumes. The bride will wear a luxurious kimono or white dress with Japanese symbols. The main things associated with this holiday are sakura flowers, hieroglyphs, colored umbrellas, fans, and various origami figures.
Bohemian
This style is perfect for free-thinkers and people who like to be creative. It's a mix of styles, cultures, and trends—all with an interesting twist. The bride usually wears something flowy and airy, like a maxi dress or shorts. She may also choose to accessorize with a flower crown or boho-chic jewelry. On the other hand, the groom should choose light and airy, like linen trousers and a casual blazer.
For the ceremony location, any natural backdrop is ideal—wooded areas, open fields, beaches, or gardens are all great options for an outdoor wedding. Decor items should include vintage furniture, patterned fabrics, and an eclectic mix of colors and shapes. Add some light candles for a romantic evening atmosphere to finish the look.
Remember that it's all about being true to yourself and expressing who you are through your wedding details, no matter what style you choose for your big day. So with that in mind, find the style you love and create a beautiful day that will be remembered forever.