An Unconventional End To The Wedding Day
Picture this: you're at the end of your wedding day. You and your partner have been embraced by friends and family, celebrated with bubbly toasts, and shared touching vows—it has been an amazing journey culminating in a perfect day. But as the sun sets on your new life together, why not take things one step further? Break tradition and surprise guests with an unconventional way to finish the evening's festivities.
Fire show
Salute is still the most popular option for fireworks. But a large-scale enchanting spectacle requires a lot of money. An alternative will be an original program with fire at an unusual location, ending with ground-based fireworks or sparkling turntables. The final chord in the form of a fire show is very spectacular, especially with the newlyweds' participation in the theatrical performance.
Lanterns releasing
What could be more romantic than a sky filled with hundreds of glowing lanterns? Release your wedding lanterns as you make a wish and share it with the world. You can even attach your wedding invitations to the lanterns to serve as souvenirs for guests.
Flashmob
A wedding flash mob is a great way to surprise your guests. Choose the music you and your partner love, create a personalized dance routine, and bring on friends, family, or hired professional dancers to show off their moves. The reaction from guests will be unforgettable!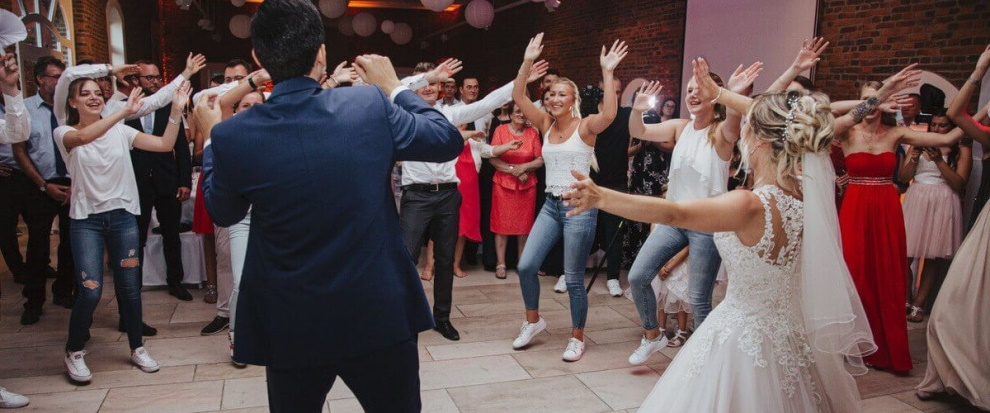 Rock-paper-scissors tournament
It's a great way to entertain your guests after the wedding. Create teams with friends and family, and let them compete in a rock-paper-scissors tournament. The winning team will get champagne or an unforgettable honeymoon trip voucher.
Release of doves
The release of white doves is a popular tradition symbolizing the couple's fidelity, peace, and prosperity. Doves can be released from cages at the beginning of the celebration or the end for a satisfying finish as guests wave goodbye with their sparklers. This image will stay in everyone's memory for a long time.
Glow sticks
Guests can dance the night away with glow sticks that come in various colors and shapes. Your wedding images will be immortalized in amazing selfies taken by your guests, glowing in the dark. It's a fun way to end the night for everyone.
Flyboard show
If you want to surprise your guests, try something different. For example, if there is a lake or pond near where you celebrate, you could arrange a flyboard show. It is where people wear luminous suits and fly above the water's surface to music. Everyone will be amazed! At the end of the program, the young people will be happy to receive fresh flowers from extreme athletes.
What not to do
You need to plan the festive evening so that it goes smoothly. Even a relaxed environment should be controlled. With proper timing, the finale will be right on time – at the moment of emotional upsurge- so the guests feel comfortable. Do not stress out the guests with a long program.