Wedding Makeup: 5 Basic Rules
When it comes to your wedding makeup, you want to put your best face forward! Your wedding day is one of the most special and important days of your life, and looking beautiful will surely contribute to making it even more memorable. Before deciding on which bridal look is best for you, there are five basic rules when choosing wedding makeup that can help ensure you look picture perfect all day long. Keep reading to discover how mastering these helpful tips can help ensure a flawless result at the altar (or wherever you may tie the knot)!
The most important thing is a perfect skin
A few months before the wedding, take better care of your skin. It includes washing your face every day and other regular procedures. You should also postpone any traumatic procedures like chemical peels. But you can go to a beautician for other, more pleasant procedures – facial massage, moisturizing masks- at least once a month before the wedding.
Use durable products
To make your wedding makeup last, you need to use persistent products. First, apply a base for your makeup. Then, after cleansing and moisturizing, apply a primer and then go to the tone. Next, spread cosmetics in translucent layers – this applies to blush, highlighter, translucent powder, and lipstick.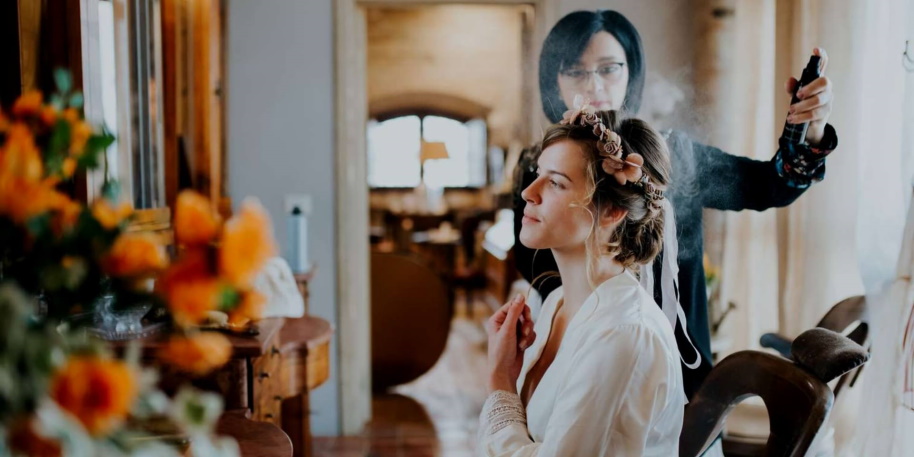 Choose neutral shades
If you want to look classic for your wedding dress and ceremony, it is best to stick to a few simple rules. Do not experiment on the night before the wedding. If you want something unusual, look at a list of main makeup trends. You will surely find one that you like. A classic that will never go out of fashion for wedding makeup for the bride is radiant skin, a slight blush, pink lips, and a slight accent on the eyes.
Don't forget to mattify your skin
Do not use too many highlighters; you will look sweaty instead of healthy. If you have oily skin, keep some makeup wipes or powder in your purse to help control the shine. Only use a highlighter after applying the powder – put it on the temples, upper part of the cheekbones, and inner corners of the eyes.
Leave your makeup to a makeup artist
Look for a good makeup artist early. First, make appointments with a few different artists. This way, you can pick one you like and who understands your style. Then, be sure to do a test run with the makeup artist before the wedding, about a month and a week ahead. That way, if anything changes, you can adjust your makeup plan.
These five points should help you create the perfect makeup for your wedding day. By following these simple rules, you'll be well on your way to finding that perfect bridal look that will make you feel and look beautiful!